Photographic Black Cat Face t-shirts with striking large eyes and the option to choose from Hello Darkness My Old Friend lyric options!
Artwork RIPS happen everyday, unfortunately. And our Black Cat photographic print (of our beloved little lady, Ella) is one of our most ripped t-shirt prints. Please support indie and help halt the theft by only purchasing from the below list of Hello Darkness My Old Friend Cat T-Shirts. We thank you… as does Ella.
---
Hello Darkness My Old Friend 2019 Cat T-Shirts & Apparel
We've done a little more photoshop work on the original photographic print and have created a new Green Eyes (digitally enhanced) version. These options are available via our TeePublic and Threadless artist stores.
---
---
---
---
---
Original Photographic Print – Hello Darkness My Old Friend Apparel Options
The original photographic Black Cat print – with full length whiskers – is still available. Please see below for options and suppliers.
---
---
Black Cats Rule
Original 2013 Photographic Print
Our RedBubble artist store serves as a gallery and offering of all our original designs – before we did any re-vamping for our 10 year anniversary. As such, this is where you can still find the original photographic print first published in 2013… photographic dust and all.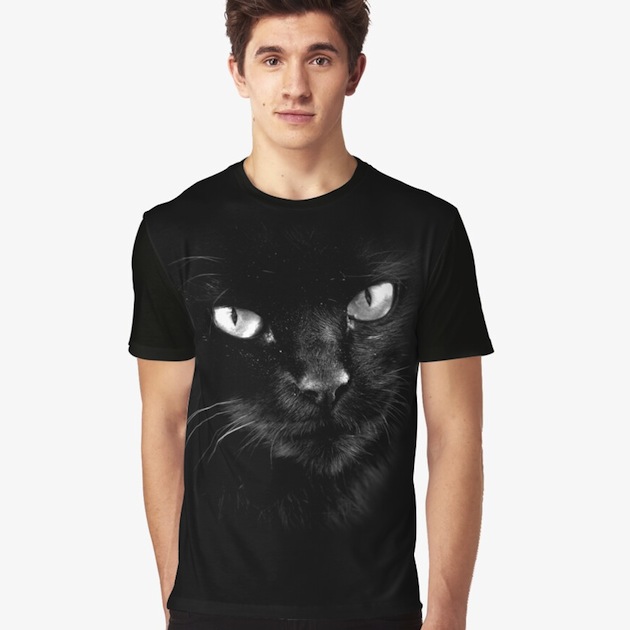 ---
Hello Darkness My Old Friend for UK Shoppers
If you're in the United Kingdom, you might be keen to know that a version of Hello Darkness can be picked up via amazon.uk.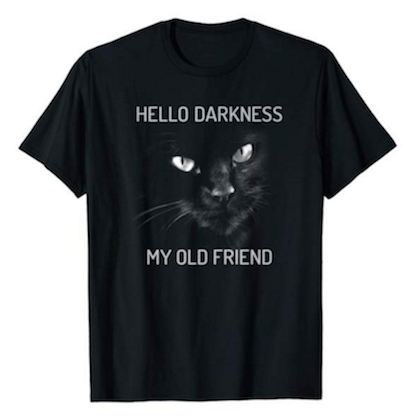 T-Shirts (£16.99)
Long Sleeve Tees (£22.00)
Sweatshirts (£30.00)
Hoodies (£32.00)
FREE UK Delivery on orders dispatched by Amazon over £20.
---
Please remember, if you see Ella's cat face and these designs anywhere else, they are illegal listings and use ripped screen resolution artwork. Say, No thanks! and we Thank you for supporting indie!
---