A longer time ago, but still in a galaxy far, far away, Luke, Leia and Han were just kids, never imagining they'd become the rebels that brought down an Empire. They were only dreaming of light sabers and X-wings, hoping one day they'd have the adventures like the Jedi, princesses and smugglers had who came before them. A little bit like your own little ones.
Any Star Wars fan that is now a parent has probably introduced their kids to Star Wars. Strapped them to a couch in front of a TV if need be. And if your kids are as maniacally obsessed with the saga as you are, a kids Star Wars t-shirt from DJKopet will bring your child unbridled giddiness. If they're too young to yet know how awesome Star Wars is, well…forget it, they're never too young.
Is your child a little rebel?
Pick up cute kids Star Wars t-shirts by DJKopet today!
DJKopet's cute Kids Star Wars t-shirts are available via NeatoShop for USD$19.95, in Toddler (2T – 4T), and Youth (S – XL). Also available on the super cute Baby Snap Suit with Hood and Ears for $24.95 (6mths – 24mths).
---
This Cute Kids Star Wars T-Shirts post contains affiliate links and we will be compensated if you make a purchase after clicking on the links.
---
---
---
---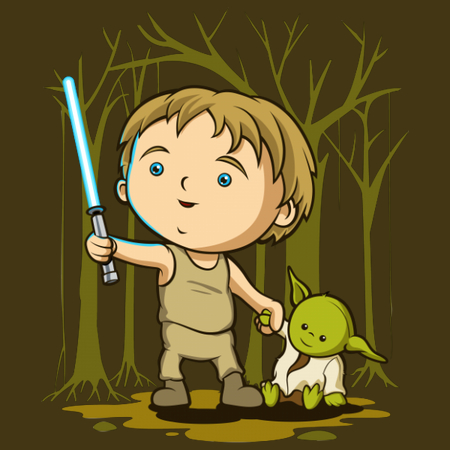 If your inner-child wants to rebel, designs are also available on adult mens and women's t-shirts (USD$19.95), sweatshirts ($34.95), hoodies ($44.95) and tanks ($21.95)... and many more styles! You can even dress your dog in these awesome designs.
---
Connect with Dave (aka DJKopet):
djkopet.com | TeePublic Store | RedBubble Store | NeatoShop Store
@djkopetdesigns | Facebook
Love the Kid's Star Wars T-Shirts by David? If you've got time, you should also take a look at his Calvin and Hobbes Star Wars Tees.